BY ADELE PETERS, July 16, 2021, Fast Company
East River Ecocide
By Elliot Sperber, July 23, 2021, CounterPunch
…While we can't stop the wind, that doesn't mean we're entirely powerless to clean the air. The cheapest and most effective way, of course (in addition to curtailing pollution — i.e., degrowth), is to plant trees. Trees and other plants not only capture CO2, but produce oxygen. So, if we value breathing (and, really, only a maniac doesn't, right?), we must also value trees. We should plant trees, as many as possible. But, crucially, we should also conserve the trees and forests and green spaces we have already. It's no exaggeration to say that those in positions of power who don't value, and don't prioritize, such vital resources are putting us all on a path to extinction.
That's why it's so peculiar that Bill de Blasio (the mayor of New York City, who never tires of promoting himself as a friend of the environment) among others are planning to destroy over one thousand mature trees in a park here this coming October. At a time when we should be protecting our trees and green spaces most vigorously, the city is intent on destroying the thousand trees of East River Park, the nearly one-and-a-half mile long park that runs between the East River (really a tidal strait, an extension of the bay, particularly prone to flooding) and the FDR Highway along Manhattan's Lower East Side. But why?
Building infrastructure to stop sea level rise can have an unfortunate consequence
Solutions that block water entirely just push the flooding into other areas. A real solution is coasts that can absorb rising waters.
As the world heats up and sea levels rise, communities in the U.S. could spend more than $400 billion on seawalls to try to hold the ocean back over the next couple of decades. But there's a catch: Building a seawall in one area can often mean that flooding gets even worse in another neighborhood or city nearby.
"Basically, the water has to flow somewhere," says Anne Guerry, chief strategy officer and lead scientist at Stanford University's Natural Capital Project. Guerry is also coauthor of a new paper in the journal Proceedings of the National Academy of Sciences that models how seawalls in the Bay Area could lead to unintended impacts. "What we found is that it ends up flowing into other communities, making their flooding much worse," she says.
Be Very Careful Where You Build That Seawall
Walls are meant to keep out rising seas—but that water still has to go somewhere. New modeling shows it could well end up flooding your neighbors.
By Matt Simon, July 14, 2021, Wired
THINK BACK TO being a kid at the beach, building walls around your sandcastles. If you engineered those fortifications properly, the tide would come in and flow around your kingdom, before the walls eventually eroded away. By redirecting the rising water, you would have saved your castle—at least for a little while.
Now think bigger. Imagine you're a city planner in an area threatened by rising seas and you've spent a fortune to build a proper seawall. The tide comes in and the wall holds, saving you billions of dollars in property damage. But: whomp whomp. Like the waves you once redirected around your sandcastle, the rising waters hit the wall and flow into the communities on either side of you. You've saved your residents, but imperiled others.
Portland's 116-Degree Heatwave Underscores how Deadly Environmental Racism is…and the Lower East Side will Face a Similar Fate if the ESCR goes through.
Listen to the New York Times's The Daily podcast, July 14, 2021:
https://podcasts.apple.com/us/podcast/the-heat-wave-that-hit-the-pacific-northwest/id1200361736?i=1000528839516
Transcript from the podcast: There's a professor at Portland State University, Vett Shandiss, and during the heat wave he went around with a thermometer…and he found that the wealthiest parts of Portland (OR) were 98-, 99-degrees, and then he went to the working class parts of Portland with the highest concentrations of people of color, historically disinvested, not a lot of sidewalks, not a lot of tree cover, a lot of exposture to sun, a lot of concrete that just absorbs the sun's radiation.
He found a reading of 120-degrees in the poorest neighborhoods in Portland. In the poorest zip codes, the highest number of deaths occurred…and in the wealthiest zip codes, the lowest number of deaths occurred…
Trashing the Community-Backed BIG U: East Side Coastal Resilience Moves Forward Despite Local Opposition.
Will NYC Miss Another Opportunity to Lead on Climate and Environmental Justice?
By Dante Furioso, Jul 13, 2021, Archinect
…Where there is wealth, there is also poverty. Along the East River, the [resiliency] plan was produced with input from the residents of the historically working-class Lower East Side. As one of the largest blocks of New York City Housing Authority (NYCHA) tenants in the five boroughs, many of the 28,000 public housing residents supported a plan in which East River Park would gradually terrace into the river—allowing the rigid bulkhead to soften into a more natural, sloping coastline. The park would flood in high-water events and the addition of a long berm along the perimeter of the park would separate it from the inland housing during future flood events.
The plan also envisioned the prominent Robert-Moses-era expressway, the FDR, converted into a public transit corridor, turning the smog-inducing automobile lanes into space for dedicated buses and light rail. The combined effects of creating a floodable park and reducing motor vehicle traffic would improve public health for the large population of low-income, people of color. At the same time, this would reduce greenhouse gases, which are a major source of planet-warming and the ultimate cause of the sea-level rise. With a more natural connection between the city and its surrounding estuary, people could engage with their local waterways inducing civic desire to improve local ecology.
Instead, in 2018, the city vetoed the community plan and submitted a redesign that calls for the park to be buried under eight to ten feet of fill. Ignoring the recommendations of the architect-led design team, the city opted to rebuild the same park at a higher elevation—the water's edge unchanged and the highway preserved.
What Technology Could Reduce Heat Deaths? Trees.
By Catrin Einhorn, Published July 2, 2021, Updated July 3, 2021,
The New York Times
DES MOINES — The trees were supposed to stay.
It didn't matter that the owners of the squat building alongside were planning to redevelop the property. The four eastern red cedars stood on city land, where they had grown for the better part of a century.
"There's no way these trees are coming down," Shane McQuillan, who manages the city's trees, recalled thinking. "The default position for us is, you don't take out big trees to put in small trees."
Here's why: At a time when climate change is making heat waves more frequent and more severe, trees are stationary superheroes. Research shows that heat already kills more people in the United States than hurricanes, tornadoes and other weather-events, perhaps contributing to 12,000 deaths per year. Extreme heat this week in the Pacific Northwest and Canada has killed hundreds…
Rivera: Coastal resiliency now or 'else-a'
JULY 9, 2021, The Village Sun
In the wake of the deluge from Tropical Storm Elsa that flooded highways and subway stations Thursday afternoon, Councilmember Carlina Rivera reiterated her support for the East Side Coastal Resiliency project.
"The climate crisis isn't near, it's here," Rivera tweeted, along with a video of Big Apple straphangers wading through a flooded subway passageway. "We can't afford to keep putting off resiliency measures for another year. That's why we're not waiting on the East Side — and why we need that kind of urgent policy vision citywide…"
But opponents of E.S.C.R., which would bury East River Park under 8 to 10 feet of infill soil to raise it above the floodplain, said Rivera's argument is, well…all washed up. Whereas Hurricane Sandy in 2012 caused the East River to overflow its banks, flooding the East Village and Lower East Side, what happened Thursday was heavy rain connected to Tropical Storm Elsa.
Elected Officials Act Like Only the Wealthy are Entitled to Open Green Space [Op-Ed]
By Kirsten Theodos, July 9, 2021, Bowery Boogie
Governor Cuomo recently unveiled his plans for an Essential Workers Monument at Rockefeller Park in Battery Park City. The "Circle of Heroes" would honor the essential workers who carried the City through the pandemic. While the intent is honorable, it would require destroying 3,000 square-feet parkland… Understandably, this caused an uproar from the local residents who camped out at the site to save their beloved park, spawning the hashtag #PauseTheSaws. Soon elected officials joined the chorus of opposition…
Meanwhile, on the eastern loop of lower Manhattan, where CM Chin and BP Brewer actually have meaningful input, our elected officials remain silent…
To read the story in a new page, click on the name of the publication. For videos, just click on the image.
Concert in Support of East River Park—Friday, July 9!
Swing on by Nublu between 3:00 and 7:00 to enjoy great local music and support saving East River Park! We'll have our iconic tees and totes available for pay-what-you-wish donations, or just your promise to wear them proudly. Many thanks to Moment NYC for sponsoring the show!
East River Park activists not giving up the fight, or their sumac mocktails
BY LINCOLN ANDERSON, JULY 7, 2021, The Village Sun
Carlina Rivera recently cruised to victory in the Democratic primary election for City Council District 2…
However, two days before voters trekked to the polls to cast their ballots, a small band of Lower East Siders traveled to a Kips Bay street corner, where they pitched a pavement picnic outside the councilmember's new digs. They said they wanted to talk to her about a critical issue in the election — the East Side Coastal Resiliency project and the fate of East River Park.
The event was dubbed Cocktails With Carlina, riffing on Rivera'srecent move from her native Lower East Side to the allegedly tonier Kips Bay. In an ironic toast to the pol's new home, they sipped light drinks made of fragrant sumac picked in East River Park.
BELOVED PARK
A poem for Sunday
By Eileen Myles, July 4, 2021, The Atlantic
for Carlina Rivera
The city
is like
a mismanaged
notebook
found
on a bench…
How Trees Act As NYC's "Natural Air Conditioning Units"
BY BEN YAKAS, JULY 1, 2021, The Gothamist
You may have noticed that it's been a tad bit zesty outside this week—New York City has been under a heat advisory since Monday as record-breaking temperatures have made the city feel like the gooey, trash-filled center of a hot pocket (and it's even worse in other parts of the country). If you have access to air conditioning or one of the city's cooling centers, then you've likely planted your sweat-stained butt there. But the city has its own "natural air conditioning units" as well—and all you have to do is spend some time in nature to access them.
Throughout the city, tree canopy helps to cool down areas during heat waves such as this. As Curbed pointed out, the four coolest parts of the city in recent summers have all been areas neighboring major parks…
Air Pollution's Invisible Toll on Your Health
Children, pregnant women, the elderly and those with pre-existing heart or lung disease are the most vulnerable.
By Jane E. Brody, June 28, 2021, New York Times
Those most vulnerable to illness and premature death related to air pollution include children, pregnant women, the elderly and those with pre-existing heart or lung disease. The risk is greatest among people who live in poor neighborhoods, many of which are close to major roads or near industrial sources of pollution.
New York Embarks on a Massive Climate Resiliency Project to Protect Manhattan's Lower East Side From Sea Level Rise
Some residents are wary of the $1.45 billion system of seawalls and floodgates that will elevate the East River Park and protect 110,000 New Yorkers from coastal storms and flooding.
Brahmjot Kaur, June 25, 2021, Inside Climate News
Carlos Jusino has lived in the Lower East Side of Manhattan for over 35 years and remembers Hurricane Sandy as the longest two weeks of his life. As the neighborhood flooded, his family was left boiling water on a gas stovetop. Without heat, every blanket in their apartment was in use.
Many inaccuracies in this article.
Carlina Rivera moves out of Loisaida
JUNE 20, 2021, THE VILLAGE SUN
The City Council Member has moved to Kips Bay, far from the incipient construction that will cloud her old neighborhood with noise and dust.
City Claims to Preserve East River Park Amphitheater and Allow LES Ecology Center Composting to Remain
by Elie, June 14, 2021, Bowery Boogie
City officials announced the cash infusion to save the eroded bandshell – erected in 1941 – during the Parks subcommittee of Community Board 3 last Thursday. The $4.83 million budgeted for the preservation will go toward installing a new roof system over the current structure.
However, advocates claim that this announcement is misleading. And that this is not really a "preservation" but a complete overhaul (demolition) to something the community is against.
Also announced at the meeting was encouraging news that the Lower East Side Ecology Center can continue its composting activities on park grounds. For the last eighteen months, the local nonprofit faced the looming compost eviction in favor of playing fields, and scrambled to find replacement space.
East River Park's beloved amphitheater to be preserved with new funding
By Ari Ephraim Feldman, Manhattan, Jun. 11, 2021, NY1
The city's massive effort to raise the East River Park by eight feet to prevent flooding will now include additional funding to preserve the park's beloved amphitheater, and allow the Lower East Side Ecology Center to keep its eight-tons-per-week compost operation on park grounds. …
The changes have made community members who are skeptical of the park's reconstruction "cautiously optimistic," said Michael Marino, founder of Friends of Corlears Hook Park, the park that is across the highway from the East River Park's amphitheater.
"I don't think it should have taken this long for this to happen," Marino said of the new funding. "I feel like every once in a while, after years of the community complaining about something, we get a little crumb, and that's supposed to appease us."
Marino said he is pleased that the amphitheater will have a cover of some kind, but is still concerned that the current plan does not include bathrooms or sufficient seating for performances.
A covered amphitheater would offer "that grandiose vision" for people entering the park, he said.
Video: Coastal resiliency plan ignores the 'elephant by the park,' the F.D.R. Drive
JUNE 9, 2021, The Village Sun
It's car pollution, stupid.
That's a central message of the Sixth Street Community Center's new "Save East River Park" video.
Carlina Rivera to Face Sole Challenger for Lower Manhattan Seat
by Ese Olumhense, June 3, 2021, City Limits
Hussein has also been critical of Rivera's position on the city's contentious East Side Coastal Resiliency plan, which will see East River Park demolished and later raised to better protect it from coastal flooding, according to city officials.
The East Side Coastal Resiliency Project breaks ground, but opponents aren't backing down
By Kellie Zhao • May 28, 2021 • The Architect's Paper
Some residents claimed the environmental ramifications of burying the park and felling approximately 1,000 trees had not been thoroughly assessed and that more measures were needed to conserve and relocate existing wildlife. Dr. Amy Berkov, a City University of New York biologist and East Village resident, questioned why the city neglected to follow the regulations set forth in the City Environmental Quality Review Technical Manual, which provides agencies guidelines to evaluate, disclose, and mitigate the environmental consequences of a project before it is implemented. An executive summary from 2019 on the environmental impacts of the project claimed that all birds and insects could migrate to nearby tree canopies and community gardens throughout the duration of construction, and that "no significant adverse effects to terrestrial resources are anticipated as a result of construction." Though the city has committed to planting approximately 2,000 new trees, consisting of fifty different tree species that will be more resilient to salt spray and extreme weather, it will take decades for the new saplings on the reconstructed park to achieve a full canopy.
To protect a community from climate change, New York is elevating a park
By Angela Moore, Reuters, May 21, 2021
The project also includes razing the waterside East River Park and covering it with enough dirt to raise the entire park by 8 to 10 feet (2.4 to 3 meters). The city will plant 2,000 trees to improve air and water quality, after cutting down 1,000 for the project.
Some residents have protested the plan, saying it causes too much harm and costs too much for the protection it would provide.
Why is Justin Brannan Treating this Activist Group So Poorly?
Queen of the Click, Brooklyn, May 20, 2021
Visitors showed up to Councilman Brannan's office because they want to save the East River Park. All are professional and masked, but were not welcomed into the office.
Blackout along East River Park
May 19, 2020, EV Grieve
In recent days, someone has blacked out all the Save East River Park flyers along the waterfront…
The Fight Over East River Park
The Brian Lehrer Show, May 18, 2021
Everybody agrees it's only a matter of time before lower Manhattan floods from rising sea levels or another superstorm, but when it comes to figuring out how to protect the area, there is much less consensus. Keith Gessen, professor at Columbia School of Journalism, founding editor of n+1 and a contributor to New York Magazine, talks about the fight over the future of East River Park, and why it's a predictor for climate adaptation battles to come.
"MUSIC AND RUNNING, IT'S SOMETHING ANYONE CAN DO"
INTERVIEW WITH MATT SWEENEY.
PHOTOGRAPHY AND INTERVIEW BY BEN RAYNER
WORDS BY ANDY WATERMAN, May 13, 2021, TRACKSMITH
"East River is where I started," Matt Sweeney told Tracksmith during our interview. "There's something about running next to water which is great. I don't know if I'd have picked up running if that park wasn't there – it's so inviting. There's nothing daunting about it, there's every kind of person running there."
"It's truly beautiful beyond words," says Sweeney. "It's essential to so many people's well-being – it's essential to my well-being – and it's under threat right now from developers. They're claiming it's for flood protection, but it's completely not for flood protection. They want to destroy the park and build condos there in 10 years."
How can NYC build back faster?
New York City Department of Design and Construction Commissioner Jamie Torres-Springer talks COVID-19 capital project delivery, East Side Coastal Resiliency and borough-based jails.
By ANNIE MCDONOUGH, MAY 12, 2021, City & State
We're very proud and excited about this project. It's going to protect 110,000 Lower East Side residents, 28,000 of whom live in New York City Housing Authority apartments. And not only protect them from flooding in the future, like (Superstorm) Sandy, but also vastly improve open space and recreational opportunities.
This and much more misinformation from the DDC Commissioner. Please read and comment.
The Destroy-It-to-Save-It Plan for East River Park
New York's first climate adaptation battle is here.
By Keith Gessen, May 11, 2021, New York Magazine/NYMag/Curbed
Eileen Myles, the poet and novelist and East Village literary figure, winner of a Guggenheim and author of the cult classic Chelsea Girls, first heard the city was planning to demolish East River Park last September. The reason given was flood protection. The area had been devastated by Hurricane Sandy. But Myles was incredulous and got in touch with a group of activists working to save the park. Myles had never really liked activism — "I never have the impulse to pick up a bullhorn in front of a crowd, and the only thing I hate more is seeing other people do it," they told me — but this was different. This was their park.
Foes file legal appeal vs. East River Park resiliency project
BY LINCOLN ANDERSON, MAY 1, 2021, THE VILLAGE SUN
Opponents of the East Side Coastal Resiliency plan have filed an appeal in their lawsuit to block the embattled mega-project….
"I hope that the appeal is successful," [State Senator Brad] Hoylman said. The judge got it wrong. I think it's a question of legislative prerogative."
From an Urban Farm to a Wetland, This Two Trees Development Is Beyond Greenwashed
By Willy Blackmore, Curbed, April 28, 2021
Rather than building new flood barriers, like the one planned for East River Park on the Lower East Side, reestablishing this kind of spongelike native landscape is really the solution to the question of how New York City might withstand the rising waters of climate change.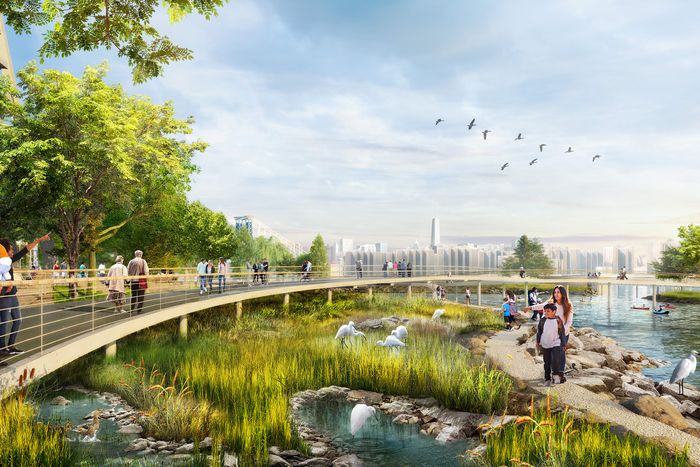 East Side Coastal Resiliency Project Construction to Begin
By Patrick McNeill, Cityland, Center for New York City Law, New York Law School
he ambitious project will help to protect the East Side community and provide new improvements to many parks. On April 15, 2021, Mayor Bill de Blasio announced major construction on the East Side Coastal Resiliency Project. The $1.45 billion project will extend flooding protections and improve open spaces. Neighborhoods that were heavily affected by Hurricane Sandy in 2012 will now be home to one of New York City's most ambitious infrastructure and climate justice projects. For CityLand's prior coverage of the East Side Coastal Resiliency Project, click here.
NYC Residents Fight Flood Control Plan That Gets Rid Of Park
WBGO By Scott Pringle, April 25, 2021, 42 seconds
"It will be completely surrounded by pile driving, heavy construction, dust, particulate matter from a million tons of fill. This is not the solution for flood control."
Earth Day action: Elizabeth Street Garden joins coalition to fight for NYC green spaces
By Dean Moses, April 22, 2021, AMNY
The small one-acre paradise located between Prince and Spring Streets has been fighting its own battle to maintain its lush, foliage amidst a bustling city. Although their legal struggle is still ongoing, Elizabeth Street Garden is teaming up with East River Park Action and a litany of fellow groups through a citywide initiative in order to raise awareness for comparable parks and green zones that are in danger of being redeveloped.
Elected Officials Ignore Mom's Plea to Stop the City from Destroying East River Park [OP-ED]
by Kirsten Theodos, April 22, 2021, Bowery Boogie
There is a crisis right now in New York City. The limited green space we have is under attack, and even a global climate crisis and pandemic won't stop the City from destroying it. I live near East River Park, the only meaningful green space on the Lower East Side, a vital park thronging with people seeking fresh air, both day and night.
Yet, the City is set to demolish it very soon.
Manhattan coastal protection plan under cloud of controversy
By Stacey Delikat, April 21, Manhattan, FOX 5 NY
NEW YORK – In 2012, Hurricane Sandy left the Lower East Side underwater and in the dark. Now nearly a decade later, New York City has finally started work on a coastal resiliency plan to protect lower Manhattan from future flooding. But the plan is swirling in its own storm of controversy.
"We think that for $1.45 billion, there has to be a way to achieve flood protection without destroying the entire East River Park," said Fannie Ip, one of the founding members of the group East River Park Action, which opposes the city's plan.
"We Need Something Better": Lower East Siders Urge City To Halt East River Park Resiliency Project
BY JAKE OFFENHARTZ, GOTHAMIST, APRIL 19, 2021
Nearly every weekend for four decades, Raphael Munoz has been lugging heavy speakers across FDR Drive and into East River Park. When it's warm, the 57-year-old, who grew up in the nearby Baruch Houses, can be found near the amphitheater, laying down the soundtrack for picnics, birthday parties, and barbecues that stretch late into the night.
But with the city set to move forward on its East Side Coastal Resiliency (ESCR) plan, Munoz's longtime open-air venue will soon be buried under 8 to 10 feet of landfill. On Sunday, he joined hundreds of other Lower East Side and East Village residents in demanding the city halt the $1.45 billion project.
"There is climate change. That's a fact. So we have to do something about it," Munoz told Gothamist. "But I don't know why they have to take away the park."
Protesters march against plans to demolish East River Park
BY AMY YENSI, MANHATTAN, NY1, April 18, 2021
"We had a plan that the community worked on for years, planing everything, going over structures and then the mayor unilaterally decided, without community input, that the way to save the park was to destroy it for at least 5 years," said resident Judy Capel.
'Save our park!' Hundreds of protesters — no politicians — march against East Side resiliency plan
BY LINCOLN ANDERSON, The Village Sun, APRIL 19, 2021
As protesters streamed across the E. Sixth St. bridge over the F.D.R. Drive into East River Park on Sunday, one of them had a telling insight. "No elected officials," observed Mark Hannay, a healthcare advocate and East Village resident. "Normally, all the elected officials would be here for something like this."
Hundreds march in opposition of the East Side Coastal Resiliency project
By Dean Moses, amNY, April 18, 2021
Emily Johnson is of the Yup'ik Nation, and is an avid water and land activist. She is a strong believer that climate justice is racial justice and is one of hundreds of Lower East Side residents against the ESCR project. She says that this plan is only a temporary fix that will destroy the trees in the East River Park and prevent individuals from freely accessing the open space.
"We demand the city stop the demolition of East River Park. We demand a comprehensive outside environmental review of their plan. We demand immediate interim flood control; we demand a truly resilient plan. This city, Mayor de Blasio, our Council Member Carlina Rivera, they want us to accept their environmentally racist plan," Johnson said, adding, "The city wants us to accept a $1.5 billion plan that is only temporary, it is not resilient, destroys our park, and for years makes our community vulnerable."
Great pictures, too!
City Officially Breaks Ground on $1.45B East Side Coastal Resiliency Project
by Elie, Bowery Boogie, April 16, 2021
After an initial delay, the contested $1.45 billion East Side Coastal Resiliency Project is set to break ground in the coming days. All against a backdrop of legal filings and vociferous community opposition.
"Building a recovery for all of us means fighting climate change and investing in resilient communities," Mayor de Blasio stated in a press release yesterday. "This project will keep generations of New Yorkers safe from extreme weather, coastal storm, and rising sea levels – all while preserving and improving some of our city's most iconic open spaces."
[There are so many inaccuracies in that quote, I don't know where to start. More to come.]
City officially launches $1.45 billion East Side Coastal Resiliency project
By Kevin Duggan, amNY, April 15, 2021
Later this year, work will start to raise the almost 46-acre East River Park with 8-10 feet of fill, along with an upgraded amphitheater, ballfields, tennis courts, soccer and multi-use turf fields, track and field, basketball courts, playground, comfort stations and picnic and barbecue areas.
City Kicks Off East River Resiliency Project, as Local Activists Step Up Protests
The Lo-Down, April 15, 2021
In a press release dated April 15, the mayor stated, "This project will keep generations of New Yorkers safe from extreme weather, coastal storm, and rising sea levels – all while preserving and improving some of our city's most iconic open spaces." Almost a decade after Hurricane Sandy, construction is beginning on a 2.4 mile stretch of the East River from East 25th Street to Montgomery Street. It involves demolishing and then rebuilding East River Park at a higher level and creating a system of floodwalls, berms and movable floodgates.
A Recovery For All of Us: Mayor de Blasio Celebrates Construction for East Side Coastal Resiliency Project
Office of NYC Mayor, April 15, 2021
Ambitious climate adaptation effort will protect a diverse East Side community, including over 28,000 NYCHA residents
NEW YORK—Mayor Bill de Blasio today announced the beginning of major construction activities on East Side Coastal Resiliency (ESCR), a $1.45 billion climate resiliency project that will extend flood protections and improve open spaces for more than 110,000 New Yorkers – including 28,000 public housing residents – on Manhattan's East Side, from East 25th Street south to Montgomery Street. These neighborhoods, which were pummeled by Hurricane Sandy in 2012, will now be home to one of the most ambitious infrastructure and climate justice projects in New York City history.
Expurgation Exasperation:
East River Park Advocates Demand to See Resiliency Planning Documents
The Broadsheet, APRIL 13, 2021 BY ROBERT SIMKO
Joining East River Park Action as a co-plaintiff in the suit is Christopher Marte, a candidate for the City Council seat that will be vacated by Margaret Chin later this year, as a result of term limits. Mr. Marte observes that, "if Hurricane Sandy were to happen again tomorrow, almost all of District 1 would be just as vulnerable as it was in 2012. We are living in a state of climate emergency and must take immediate action to protect our City. But the urgency of climate change is no excuse for decisions to be made behind closed doors with private interests leading the conversation."
He continues, "the only way the City is going to be able to meet standards and deadlines is if the public is able to hold them accountable, and if the impacted communities are treated as the stakeholders that they are. It is their homes that will be underwater, it is their park that will be destroyed—not Mayor de Blasio's."
East River Park activists sift through newly revealed info in resiliency reports
BY LINCOLN ANDERSON, The Village Sun, APRIL 12, 2021
Three hundred million dollars in "alienation mitigation" funds.
That's just one of the things that the city was hiding behind its heavy redactions of key documents concerning the East Side Coastal Resiliency project.
'Save East River Park March' To Be Held April 18
The march is organized by Eileen Myles, Emily Johnson and Harriet Hirshorn of the East River Park ACTION group.
Patch, April 12, 2021
We are inviting you to join us in this urgent exercise of free speech and outlet for the immense frustration we feel at the betrayal by public servants i.e., our mayor, our City Council Member and the entire City Council, our Community Boards, City Planning Commission, the Parks Department and all who are engaged in supporting the farcical, greedy and short-sighted version of flood control known as East Side Coastal Resiliency.
Opponents Of City's East River Park Resiliency Project Sue For More Transparency
BY SYDNEY PEREIR, APRIL 11, 2021, Gothamist
(Jonathan) Lefkowitz said that the value engineering study may also reveal information for another lawsuit the group filed last year, which argued the project needed state legislature approval to rebuild the park. That lawsuit was dismissed last summer.
"They're basically cutting off lots of people from a park and providing no alternatives, no viable alternatives," Lefkowitz said.
March to save East River Park
Village Sun, April 11, 2021
Opponents of the $1.45 billion East Side Coastal Resiliency plan will hold a protest march through the neighborhood on Sun., April 18.
"Save our park! Save our lungs! Save our neighborhood!" a press release for the event exhorts.
Opponents Of City's East River Park Resiliency Project Sue For More Transparency
By NYPAA News on April 11, 2021
A group of East Village residents opposed to a flood protection plan involving rebuilding the East River Park has sued City Hall—again—to try and halt the project.
Activist group sues Mayor de Blasio, city over East River Park report
by Dean Balsamini, NY Post, April 10, 2021
Environmental activists are suing Mayor de Blasio and the city for allegedly withholding vital information on the $1 billion East Side Coastal Resiliency project….
"We seek alternatives that will preserve much of our East River Park and provide flood protection. Some of those alternatives are outlined in the unredacted sections of the study. Now we need to see all of the report," Arnow added.
Interview with Tommy Loeb of East River Park Action
by Paul DiRienzo, WBAI, April 8, 2021, East River Park Section starts at 16:53
Talking about the redacted Value Engineering Study East River Park Action uncovered and what the city seemed to be hiding be denying the report even existed.
Mystery solved, kind of: Unredacted East River Park resiliency study emerges
by Dean Moses, AMNY, April 7, 2021
The East Side Coastal Resiliency (ESCR) "Value Engineering Study" mystery has been unveiled and majority of the redactions have been removed, but the reasons for this missing and reappearing study are still vague.
City tries again with release of a Value Engineering Study for East River Park
EVGrieve, April 7, 2020
Five days after East River Park Action (ERPA) filed a lawsuit against Mayor de Blasio and the Office of Management and Budget for the entire Value Engineering Study without redactions … the city released a (mostly) unredacted version yesterday.
And check out the lively comments section
Rivera: More info coming from redacted resiliency report
BY THE VILLAGE SUN, APRIL 7, 2021
[Carlina] Rivera, in her tweet, said the city's Department of Design and Construction agreed to release the additional information as a result of advocacy by her and the East Side Coastal Resiliency Community Advisory Group.
But members of East River Park ACTION countered that it was their lawsuit, plus a letter by Manhattan Borough President Gale Brewer to the mayor, advocacy by the Grand Street Democrats political club and also coverage by local media outlets, including The Village Sun, that compelled D.D.C. to cough up more of the heavily redacted study.
Activists File Lawsuit Against City Over Redacted East River Park Report
By Elie, April 6, 2021, Bowery Boogie
East River Park ACTION, the Grand Street Democrats club and a gaggle of political candidates and local activists filed a lawsuit on Friday (April 2) against Mayor de Blasio, demanding that the redacted passages of the Value Engineering Study for the East Side Coastal Resiliency project be unhidden and made public. The city's Office of Management and Budget is also named by attorney Jack Lester.
Lawsuit filed over East Side Coastal Resiliency report redactions
BY LINCOLN ANDERSON, APRIL 5, 2021, THE VILLAGE SUN
East River Park ACTION, the Grand Street Democrats club and a lineup of political candidates and local activists are plaintiffs in an Article 78 lawsuit against Mayor de Blasio, demanding that the redacted sections of the Value Engineering Study for the East Side Coastal Resiliency project be made public.
Exclusive: Council Member Justin Brannan joins the fight to reveal redacted "ESCR Value Engineering Study"
by Dean Moses, April 4, 2021, AMNY
Council Member Justin Brannan joins the search for the truth behind the redacted EastSide Coastal Resiliency "Value Engineering Study."
The ghost hunt continues for the mysteriously missing and then reappearing East Side Coastal Resiliency (ESCR) "Value Engineering Study," which is so heavily redacted that Council Member Brannan, the Chair of the Committee on Resiliency and Waterfronts, joins the quest in pushing Mayor Bill de Blasio to have this report fully released to the public.
City Council Chair on Resiliency Committee Demands Non-Redacted East River Park Resiliency Report
by Elie, April 5, 2021, Bowery Boogie
…the Chair of the City Council Committee on Resiliency and Waterfronts, Justin Brannan, is getting involved. Demanding that the city release an non-redacted version.
"As you know a heavily-redacted, virtually unreadable copy was released due to FOIL requests," Brannan wrote in a letter sent to Mayor de Blasio today. "This does not necessarily inspire confidence for those who are merely seeking transparency and information."
"This is a significant project that will fundamentally change the area and require hundreds of millions of dollars of investment from the city," he continued.
Residents Fight to Stop Plan that will level Park for years
Angi Gonzalez, April 1, 2021, NY1
Construction to Raise East River Park Above Rising Waters Starts This Spring
by ARI EPHRAIM FELDMAN, NY1, March 29, 2021
Fannie Ip is concerned that by hiding much of the [Value Engineering] report, the city is hiding possible alternatives for East River Park that could prevent flooding without destroying the park as it is.
"That's how they've been dividing us: if you want flood protection, this is it," Ip said."But that's false. This is not the only plan."
Getting Hyperlocal
by Marcella Durand, March 21, 2021, Blackear Institute
The more I learn about the history of this particular sliver of parkland—over which the city is fighting with local inhabitants of the Lower East Side, including residents of New York City Housing Authority buildings, artists, poets, city planners, composters, joggers, bicyclists, yoga practitioners, drummers, birders, fishers, foragers, indigenous and senior people—the more I realize how the U.S., for all its illusory surface variations, is still basically stuck in the same moral and philosophical place it was in its first moment of acquisition, exploitation and colonization.
Watching From a Distance: What Gives a Virtual Dance Life?
By Gia Kourlas, March 24, 2021, New York Times
This film, in essence, preserves not only a dance but a place — the amphitheater, whose proposed demolition is a part of plans to elevate and reconstruct East River Park to protect it from damaging coastal storms. (The plan is not universally popular.) It also represents a moment in time when, despite the pandemic, a choreographer and her dancers, seven in all, rehearsed in a park and performed for an invited crowd and anyone else who felt like stopping by.
Beyond the open arch of the amphitheater are joggers, cyclists, walkers; past that is the rippling water of the East River. Occasionally cameras pan back to see a casual crowd watching, but as the dancers pair up and abruptly go their own way moving with an internal urgently, it's as if the city is their audience.
Allie Ryan running for Council District 2 as an independent
by Lincoln Anderson, March 24, 2021, The Village Sun
One of Allie Ryan's chief concerns right now, and one of her main reasons for running for office, is East River Park and the East Side Coastal Resiliency plan. Land use and quality-of-life, as she sees it, are the two key issues affecting city residents, and they are converging in the embattled East River Park plan and the fight against it.
Report: Lowest Bids for East River Park are $73 million over budget
EV Grieve, March 17, 2021
The lowest construction bids for the East Side Coastal Resiliency Project (ESCR) will cost $73 million more than the $1.45 billion budget — and they've barely started, according to the latest mailing from advocacy group East River Park Action.
WHY WRECK A PARK?
East River Park is New York City at its finest. We cannot let it be destroyed.
Matt Sweeney, March 15, 2021, Medium
About eight years ago my life as a musician in New York changed radically for the better when I started running in East River Park.
East River Park Advocates Appeal Redacted Resiliency Engineering Report
March 8, 2021, Bowery Boogie
East River Park advocates announced an appeal of the heavily redacted Value Engineering Study, the report Mayor de Blasio cited in 2018 when announcing the sudden change in the flood control plan.
East River Park ACTION attorney Jack Lester sent an appeal on March 2 to the City's Department of Design and Construction, the Office of Management and Budget, and the Parks Department to view the entire Value Engineering Study, not the mostly blacked-out version released last month.
East Side Coastal Resiliency report mysteriously appears with unreadable redactions
by Dean Moses, March 2, 2021, AMNY
…according to a tweet by Kirsten Theodos, who shared the report over social media, the majority of its pages are blacked out, making it unreadable.
"The new City plan will destroy 57 acres of coastal parkland, fell nearly 1000 mature trees and eliminate the only large outdoor greenspace residents on LES for recreation and wellness. The City plan is twice as expensive, provides no interim flood protection during the many years of construction, & requires unprecedented ecological destruction of the largest municipal park on the LES impacting the residents of the predominantly low income, BIPOC neighborhood," Theodos wrote in a tweet.
East River Community Group Gets Action on (heavily redacted) value engineering study
EV Grieve, March 2, 2021
…East River Park has many outstanding questions for the city to answer. "Our many ACTIONeers have pored over the plans and have found fatal flaws that will damage our neighborhood's well being for years to come. We must have transparency, accountability, and community involvement in a revised plan."
City Finally Releases East River Park Resilience Study, but with Heavy Redactions
March 1, 2021, Bowery Boogie
It took three years and the accompanying community pressure for the city to finally release a critical report on the East River Park reconstruction plan, which it initially claimed did not exist.
The Value Engineering Study, as it's called, was the report Mayor de Blasio cited in 2018 when announcing the sudden change in the flood control plan for East River Park. This new resiliency approach – the East Side Coastal Resiliency Project – roughly doubles the cost and buries the entire park in eight feet of fill.
NYC finally releases East River Park report, with heavy redactions
By Melissa Klein, February 27, 2021, New York POST
"The lack of transparency in this $1.45 billion public project is unconscionable. These redactions are just a pattern of disdain that the city has shown toward our community," said Tommy Loeb, a member of East River Park Action.
The city used the value engineering report as the basis for ditching another flood protection plan that would not have decimated the 57-acre park. The report says the plan to raise the level of the park would save $319 million.
Sierra Club demands hearing, transparency on East Side Coastal Resiliency plan
FEBRUARY 22, 2021 BY THE VILLAGE SUN
Following the city's release of a heavily redacted report, the Sierra Club of New York City is urging the City Council to hold a hearing ASAP on the embattled East Side Coastal Resiliency plan.
EXCLUSIVE: Erin Hussein primarying Carlina Rivera in District 2
BY LINCOLN ANDERSON, FEBRUARY 14, 2021, THE VILLAGE SUN
The top issue where this is being felt is East River Park, in her view. The city's East Side Coastal Resiliency plan, which Rivera staunchly supports, is facing resistance from a broad group of environmental activists, block associations and individuals, who have sued to stop the project.
L.E.S. Dem club snubs Rivera for 'ignoring concerns' on East River Park plan
BY LINCOLN ANDERSON, FEBRUARY 11, 2021, The Village Sun
Claiming that Carlina Rivera has "ignored" community concerns about the city's draconian plans for East River Park, the Grand Street Democrats declined to endorse her for reelection.
The stunning snub came Monday night as the Lower East Side club was considering an endorsement for City Council District 2. Currently, Rivera is running unopposed in the June 22 Democratic primary.
Mayoral candidate Shaun Donovan: De Blasio botched East Side resiliency plan
BY LINCOLN ANDERSON, FEBRUARY 7, 2021, THE VILLAGE SUN
A candidate for New York City mayor says the fiasco of the East Side Coastal Resiliency plan is exactly why he is running.
Governors Island rezoning is wrong on so many levels
BY ALLIE RYAN, The Village Sun, JANUARY 25, 2021
This plan highlights the hypocrisy of the East Side Coastal Resiliency project and the impending demolition of East River Park. East River Park, with 60 acres, in a floodplain, will be raised 8 to 10 feet to withstand floodwaters for 100 years in the future. Yet the proposed climate-change center's two sites are in floodplains on Governors Island.
Opponents of NYC's $1.4B East River Park project demand new review
by Melissa Klein, NY Post, Jan. 16, 2021
New York City's bold plan to bury East River Park is based on a phantom study that doesn't exist, opponents of the $1.4 billion project charge.
Interview on nonexistent Value Engineering Report
Paul diRienzo, WBAI, Jan. 13, 2021 (Listen from minute 12:24-17:07)
Emily Johnson of East River Park Action speaks about the news of the nonexistent Value Engineering report that the city says is the reason East River Park must be demolished. "Why is this East Side Coastal Resiliency plan being pushed through…our elected officials are lying to us, to community members who live here and will be deeply affected, and are also lying to other elected officials."
(Clarification: Johnson is from the Yup'ik Nation in Alaska, not New York as she was introduced. The original people in Manhattan were the Lenape. Johnson communicates with descendants of the Lenape diaspora and has received support for the preservation of East River Park .)
Advocacy group: The city's value engineering study for East River Park does not exist
January 11, 2021, EV Grieve
A value engineering study, an oft-cited factor behind the city's change of plans in September 2018 to bury/elevate East River Park by eight feet as part of the East Side Coastal Resiliency Project, does not exist, according to advocacy group East River Park Action.