Four years ago, our Lower East Side/East Village community petitioned the City Council to reconsider the East Side Coastal Resiliency (ESCR) plan that would demolish its beloved mile-long East River Park and build a massive levee. Less destructive alternatives were possible. Our voices went unheard.
Today, we face the consequences as the demolition of the East River Park's southern 35 acres with 700 trees has unearthed toxic soil, spreading its harmful effects throughout our neighborhood. Construction already encroaches onto the former "greenway" in the northern section of the park, while the completion of the project on the southern sections remains nowhere in sight.
We ask NYC's Committee on Oversight and Investigations to conduct a comprehensive review of ESCR. We call for independent oversight with essential revisions to the project. We ask all city officials to advocate for these changes to protect the health of our communities:
1. PRESERVE THE NORTH END OF EAST RIVER PARK
This section of East River Park is still open, but construction officials are planning imminent demolition of a large section of it. This breaches the 2019 commitment to reserve 42% of usable park space until other areas are completed and reopened. Further destruction of this area will result in a fragmented and hazardous shred of a park. It's a critical community resource in a densely populated Environmental Justice community.
The running track, four large sports fields, the half mile of river promenade and the trees in the Northern end of the park are slated for destruction–parts of it as soon as next month.
We also request a revision of the plan in order to keep the north section of the park permanently intact. Removing trees and green space for a barrier that only tackles storm surges and sea level rise exacerbates climate change. The community's quality of life near East River Park has suffered notably. A revised plan can retain the advantages of ongoing use of sports fields, uninterrupted recreation space for nearby residents, vital shade, air cleansing, cooling and carbon absorption from 500 mature trees and rainwater management through their deep rooted soil during extreme rainfall events.
2. WE NEED INDEPENDENT AND ROBUST OVERSIGHT OF THE ESCR PROJECT BECAUSE OF THE FOLLOWING ISSUES:
Apparent deficiencies in overseeing the handling of toxic materials,
A lack of real-time communication on Air Quality,
Limited transparency, forcing community members to resort to Freedom of Information Law requests for essential information like soil testing results,
Contractors deviating from construction schedules and phases
The neighboring community suffers from a severely diminished quality of life, marked by unacceptable air quality, disruptive overnight and weekend construction noise, and a glaring absence of replenished green spaces.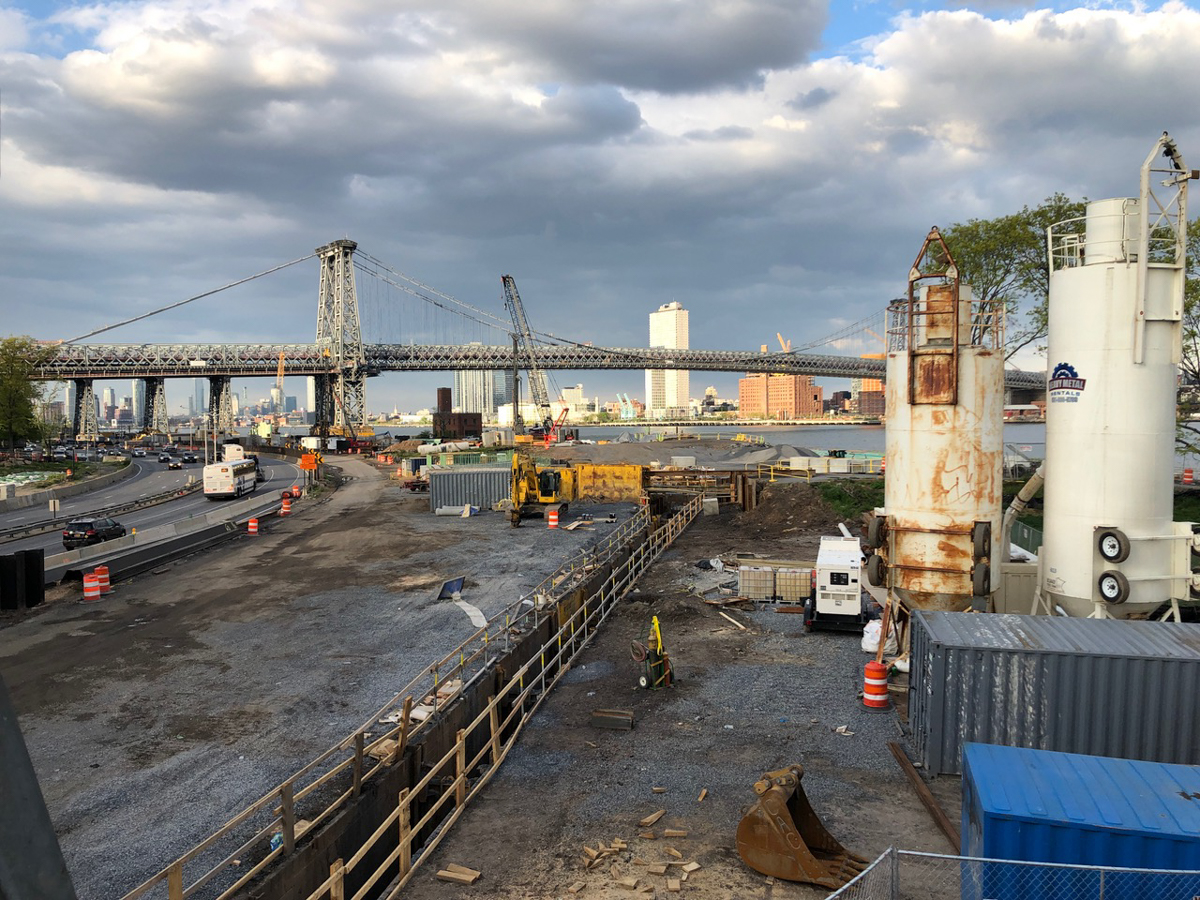 The Southern half mile of East River Park is a noisy, air polluting construction site. The northern end is the only nearby parkland for many thousands of residents.
This petition is being sent to: Mayor Eric Adams, City Council Committee on Oversight and Investigations, Committee on Parks and Recreation, City Council Members Christopher Marte, Carlina Rivera, Manhattan Borough President Mark Levine, Public Advocate Jumaanee Williams, Assembly Members Grace Lee and Harvey Epstein, and Senator Brian Kavanaugh
This grove of trees in the northern section of the park still stands. It cleanses and cools the air and helps prevent flooding from heavy rain, but will be destroyed under the current plan.
Thank you for your signature on this petition to support the communities of the Lower East Side, East Village and Chinatown and to honor this Indigenous land of Lenapehoking and the original stewards of this land, the Lenapeyok People.